Android App Development
Dazzler Software is one of the leading Android app development companies in Kota. We offer complete native app development solutions including customized Androi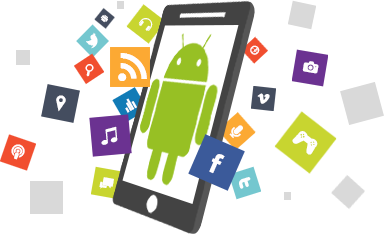 d app development that will create unprecedented business value for your enterprise and will put you ahead of your business rivals.. We have successfully developed hundreds of high performance Android apps.If you have a good idea of an Android app, we will work together to turn your inspiration into reality. We ensure a greatly responsive and responsible setting for Android app development by using updated project management software and novel communication technologies.Our extensive portfolio includes both consumer and enterprise applications in diverse verticals including entertainment, healthcare, lifestyle, real estate, retail, education, and gaming
Need for Android App Development Service
It is a well-known fact that majority (75%) of mobile devices used are based on Android Ecosystem. Android Application demand has been on the highest peak in recent year and it is not going to loose its pace in any case in 2017. Hence Android Application Development as a service is very critical to businesses for overall growth, reaching majority audience in portable world. Customized Android Application development is especially needed for new ideas and products implementation in order to generate optimum value towards business. If you want to reach 1.5 Billion users across globe in order to generate potential customers then Android Application Development as a service is what needed. Crafting a target or result generating android application development strategy is what needed to generate optimum value to business growth.
How We Develop Android Apps?
Our Android Engineers doesn't focus on utilizing common Java application architecture for Android programming. We tend to focus on making Android Applications faster (60fps). Getting this speed of performance across 25,000 android based devices in reality isn't easy to implement and requires exceptional amount of concentration in detailing Quality Assurance Techniques.
We tend to develop android apps which are memory efficient as every android app now requires a lot of random access memory to use as storage required now on average is 60MB, we tend to create memory maps or foot prints in order to make applications memory efficient.
Proper app architecture with time is very important to focus on otherwise android applications tasks will not be able to run in an efficient way hence we tend to structured the same.
Our Android Engineers tend to fuse with our User Experience Team in order to design apps according to Android platform guidance. Better Design is what better developers refer to.
Our QA Team tend to simulate testing of android apps on more than 20,000 devices virtually and 25 de-vices of different screens, versions etc. for better assurance of quality. Strong QA Suite enables to guarantee performance.
Our Team is also concerned about android app security, security issues tend to hamper android application development time and further results. We tend to resolve security issues in order to ensure app optimization and reputation is market.